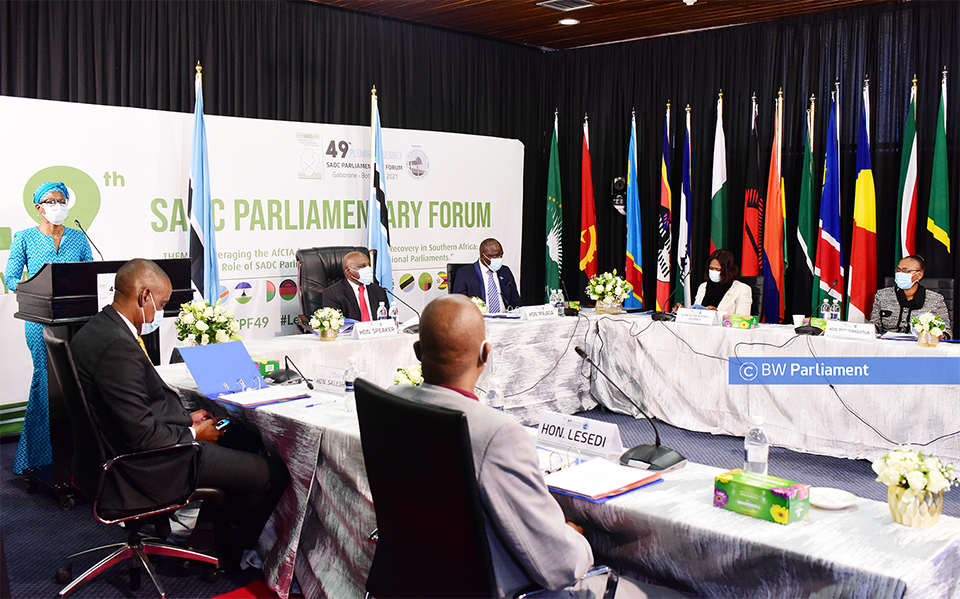 The Secretary General of the SADC-PF, Ms. Boemo Sekgoma applauded the host, Botswana Parliament, in spite of the COVID-19 pandemic they managed to hold the virtual Plenary Assembly. ''I beg to highlight some of the achievements of our Forum since the Plenary Assembly, which are two Model Laws are nearing finalization; the SADC Model Law on Gender Based Violence and the SADC Model Law on Public Financial Management'', She highlighted.
She further envisaged that these Model Laws and other initiatives by the Forum, will cement regional integration and consolidate the SADC Identity, whereby the belief of shared SADC values, cultures and norms, strengthen the bonds of solidarity and cooperation.
The General Secretary, said the Forum is poised to act as an enabler of socio-economic change through concerted actions achieved through inclusive participation of all SADC Member States. Furthermore, Ms Sekgoma highlighted that the SADC-PF has indeed led the region on themes such as elections; trade; natural resources governance; gender equality; women empowerment; budget analysis, CT and Human Resources.
Lastly, she said the Forum remains committed to deepening regional parliamentary integration and to building the capacity of its Member Parliaments to face emerging challenges.
The three day virtual session is scheduled for the 25th -27th June 2021 under the theme ''Leveraging the AfCFTA for post-COVID Economic Recovery on Southern Africa: The Role of SADC Parliamentary Forum and National Parliaments.